FWE Learning Center
View our various publications to learn about industry products, features, and best practices
An Introduction to Heat Systems
---
At FWE we know that commercial foodservice operations have needs that are as diverse as the industry itself. Finding the right equipment to fit the size and requirements of your operation can be daunting. Heating systems are one of the most important considerations that needs to be made. FWE has worked tirelessly to develop heat systems that encompass the needs of any operation. From radiant heat to the precision humidity of the Clymate IQ®, FWE has a solution for your operation.

Top-Mount Heat System - The top-mount heat system enables large circulation of hot air throughout the interior of the cabinet, eliminating hot and cold spots. These units are ideal for operations looking for an open bottom base, free of obstructions. Heating elements and blower are protected from spillage and leave the bottom of the cabinet open for easy cleaning and reduced maintenance costs. The built in top mount heat system provides a slim cabinet profile yet meets demand for high capacity.

Radiant Heat System - FWE's natural convention heat system emits a soft, radiant, uniform heat that gently circulates throughout the cabinet. Heat rises naturally and circulates from bottom to top without blowers. Radiant heat is best suited for short term heated holding.

Heated Serving Wells - Heated Serving wells use FWE's radiant heat system to radiate soft heat throughout each compartment. Each well and heated compartment is controlled separately for added versatility.

Dual Heat System - Versatile Dual-Heat cabinets allow equal performance in either canned fuel or forced air electrical heated holding. The blower system circulates air from the top while heating elements radiate heat from the bottom, allowing for full use of cabinet, even the lowest shelf. Heat is maintained unplugged with canned fuel in drawers. The slide-out drawers have safety catches on the inside of the unit, assuring canned fuel remains in the unit during transport. Dual Heat systems offer extend service range and flexibility.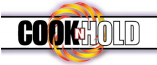 Cook n' Hold System - FWE's Cook and Hold Heat System works with little or no air movement to create a gentle and uniform heat that surrounds the product to cook and hold it at a safe temperature. The gentle air circulation reduces product shrinkage and maintains high product yield. The unique heat system first cooks food to a precise and uniform temperature; then gently holds it for hours upon hours. Once food has reached the preset temperature, an internal probe tells the LCH to switch to 'hold' mode, allowing for a natural maturing phase, which locks in moisture and flavor, keeping your menu items at that just-cooked quality and precise serving temperature. No outside venting or hoods are required in most areas, saving valuable hood space. Local codes prevail.

G2 Heat System - The G2 Series expands on the Cook and Hold Oven heat system by providing not only high yield cooking, but natural browning with 82% radiant heat and 15% gentle forced air convection. The G2 Series ovens have an enhanced element design that allows for more balanced heat, eliminating temperature stratification and re-directed airflow gently pulls air over the product and back through the elements for even coloration.

G2 with Smoke Feature Heat System - The same new generation Cook and Hold systems can be combined with available smoke feature. With the 'smoker drawer' added to the bottom of the unit, up to 4 hours of smoking can be achieved using wood chips.

LCHR Heat System - More condensed than other cook and hold units, the built-in heat system with a uniform low watt density radiant heat source creates highly accurate temperature tolerances throughout the cooking and holding functions. Minimal air movement offers uniform and consistent cooking, low shrinkage, and higher food yields of bulk or portion items, higher food moisture content, and significantly longer food holding life. The heat system provides fast heat up, recovery and accurate temperature set points.

Retherm Heat System - The retherm system uses full cabinet air circulation to re-heat and finish pre-cooked or prepared foods: bulk food in trays and pans, on-site pre-packed meals, purchased meals, or any combination of the above. The system's controls allow the operator to preset the time and temperature of the cooking cycle, as well as the holding temperature, eliminating the need for constant monitoring. Just set, load, then pull product when you're ready to serve. Users can program and store up to 12 preset menu selections. The oven switches from the higher retherm temperature mode into the lower temperature holding mode automatically after the cycle has been completed. No venting hood space required for most local codes. Local codes prevail.

Humi-Temp Heat System - The Humi-Temp system pre-conditions the cabinet environment by gently circulating moist air throughout the interior, eliminating hot and cold spots. The bottom mounted heating element and system create heated air that collects moisture as it passes over the water pan to create a humid cabinet environment. The heating system minimizes temperature difference top-to-bottom and side-to-side, which allows for the entire cabinet to be used, even the lowest shelf. The level of humidity depends upon the water pan level and the cabinet temperature. Units equipped with the Humi-Temp passive-humidity heat systems come standard with removable water pans which slide in and out for easy water fill and cleaning.
Moisture-Temp Heat System - FWE's moisture-temp heat system uses a built-in humidity system to balance moisture and air with controlled heat and humidity capabilities, allowing for greater control of holding food environment for longer holding periods. With separate 'air moisture' and 'air temperature' controls, users are given the ability to create a customized environment that best suits the products being held. Models equipped with the moisture-temp heat system are high performance and are built better to assure consistent temperatures and humidity levels in order to avoid dried out food.

Clymate IQ® Heat System - Clymate IQ® cabinets start by quickly getting up to the programmed heat and humidity levels, twice as fast as the competition. Intuitive climate control technology automatically maintains the set levels of heat and humidity. Precision heat and humidity is achieved with a unique push/ pull air distribution system that provides uniform temperature and humidity on every level, throughout the unit. Controlled moisture allows for extended holding times and avoids dried out food. Provide the best food quality from precision heated moisture for either long-term or short-term holding applications.
Proofer Heat System - This system is designed to give you control of the cabinet environment, allowing you to maintain the desired heat and humidity balance for uniform raised dough results without having to cover your dough. This system provides a two-in-one cabinet that both proofs and heats, so it can also serve as a great back-up for general holding needs when not being used for proofing or prep. Built-in humidity system balances moisture and air with controlled heat and humidity capabilities - allowing for greater control of holding food environment to longer holding period. This heat system creates a stable, controlled environment of heat and moisture which circulates gently throughout the interior of the cabinet - eliminating hot and cold spots.

Air Screen 3D System - Horizontal HV 3D Air Screen multi-fan system provides the fastest cool down times and maintains temperatures with the door open for varying lengths of time, depending on the model. This refrigerated air screen maintains an interior temperature of 45°F or less (conditional).

Guarded Heat System - The heat system is specifically designed to meet the demand of correctional environments. Heat system is built in to prevent tampering, loss or damage and is provided with protected tamper proof controls.

If you are interested in speaking to a sales representative about which heating system will best fit the need of your operation or other products that FWE offers, please contact sales@fwe.com.
---
Did you know…
Below you'll find various useful pages to help educate you on FWE products and information to better assist in deciding on your next order!