FWE Learning Center
View our various publications to learn about industry products, features, and best practices
An Introduction to Banquet Cabinets
---

FWE Mobile Food Service Equipment helps improve food service work flow and flexibility in your banquet or catering operation. We take the worry out of food service, keeping your food kitchen-fresh, on time - every time, giving you the time to concentrate on more important stuff!
As an industry leader FWE provides the most versatile, best performing, and most reliable banquet cabinet. With over 60 models, FWE offers the largest selection of banquet cabinet solutions available by any manufacturer.
Two types of heating systems are offered by FWE: electric heat and duel electric/ canned fuel heat. Each of these options is uniquely designed to fit your banquet cabinet needs and provide versatility to give you complete control of your operations. With our Dual Heat, Humi-Temp, Radiant Heat, and Top Mount Heat Systems; you will find the perfect Banquet Cabinet for your next event:

Food Warming Equipment's Dual-Heat system banquet cabinets offer extended service range and flexibility to meet the demands of the hospitality industry. These banquet cabinets are specifically designed to provide even heat distribution throughout the cabinet interior in both electric operations and canned fuel.

FWE's Humi-Temp Heat System pre-conditions the cabinet environment by gently circulating moist air throughout the interior, eliminating hot and cold spots. The bottom mounted heating element and blower create heated air that collects moisture as it passes over the water pan to create a humid cabinet environment. A unique baffle and vented tunnel minimizes temperature differences from top to bottom and side to side which allows for the entire cabinet to be used, even the lowest shelf.

The Top-Mount Heat Systems enables large circulation of hot air throughout the interior of the cabinet, eliminating hot and cold spots. These units are ideal for operations looking for an open bottom base, free of obstructions. Heating elements and blower are protected from spillage and leave the bottom of the cabinet open for easy cleaning and reduces maintenance costs.

With FWE's Radiant Heat Systems, heat rises naturally and is circulated from bottom to top without blowers.
Electric Heat:
With an expansive offering between the 'traditional' and 'economy' electric banquet cabinets, Food Warming Equipment has a banquet holding solution to fit your needs. FWE's electric heat cabinets are best suited to facilities where power is available in kitchen as well as service areas. The 'traditional' cabinets deliver heat via gentle 'humi-temp' or 'top mount' heating systems.
FWE also offers an 'economy' model, equipped with a radiant heat system that uses natural air circulation to distribute heat throughout the unit, without the use of a blower system. These 'economy' cabinets are for the smaller budget operation.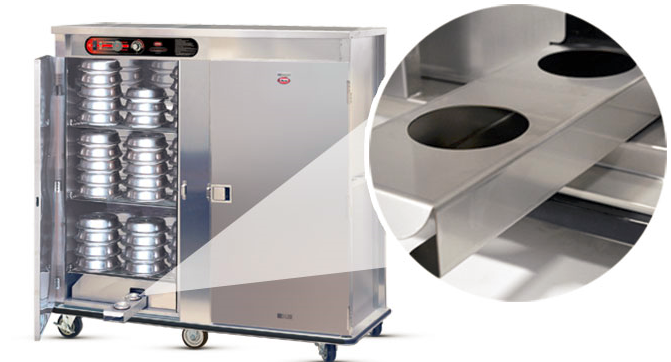 Dual Heat (Electric / Canned Fuel):
When service areas have no available power, Dual Heat cabinets are able to maintain heat unplugged with canned fuel, safely stored in drawers. Slide out drawers have safety catches on the inside of the unit, assuring can fuel remains in the unit during transport. This Dual Heat capability allows the ultimate in mobility and versatility for heated holding. On models with canned fuel, adjustable door vents are placed in the cabinet to regulate temperature or moisture levels. In the electric mode, the blower circulated air from the top while heating elements radiate heat from the bottom, allowing full use of the cabinet!
The canned fuel adapter package can be added to other FWE heat system cabinets as an optional accessory. To speak to a sales representative, contact sale@fwe.com to learn more about canned fuel options.

All of FWE's banquet cabinets come with unique features:
Quality construction - From the ground-up our Banquet Cabinets are built with quality materials built to last for years. FWE's solid stainless steel construction is built to withstand continuous, demanding use and will outperform all other brands. Heavy duty 'no sag' shelves are built to endure the pressure and weight of high-demand use and are removable to facilitate thorough cleaning. All units are fully insulated throughout, providing superior heat retention, safe food temperatures and longer holding times.
Built for transport - FWE banquet cabinets are constructed for high performance in restaurant and resort banquet operations. Engineered for transport applications - stainless steel, tubular base frame is engineered to absorb vibration and shock during transport. Many Models come standard with caster stress plates. Stationary or reach-in units are not made for transport or satellite operations.Picking the right casters for your serving environment is an important factor to consider when choosing the right banquet casters for your needs. For a breakdown of different caster options, visit www.fwe.com/files/pdf/brochures/CasterGuidelines.pdf.
Built to fit your needs - Whether your operation requires a forty plate capacity to two hundred plate capacity, FWE has banquet carts the right size to fit your needs.
Easy to use - Controls are up-front, recessed protected, easy to read and set, and include a full-range °F/°C thermostat for easy operation.
Clean with ease - Versatile heat systems are built into the cabinet to reduce maintenance and cleaning costs. With the built-in heat module, cleaning is effortless and you never worry about losing your removable heat module from your banquet cabinet again.
Available for immediate shipment - Many models are available to ship in 48 hours (Quick Ship terms and conditions apply). Visit www.fwe.com/quick-ship to learn more.
FWE banquet cabinets have a variety of other features and options available, to learn specifics, see literature, additional photos, and get a quote, visit fwe.com/products/banquet-cabinets.
If you are interested in speaking to a sales representative about this product or others that FWE offers, please contact sales@fwe.com.
---
Did you know…
Below you'll find various useful pages to help educate you on FWE products and information to better assist in deciding on your next order!