FWE Learning Center
View our various publications to learn about industry products, features, and best practices
Stainless Steel Cleaning Guide
---
Walk into any commercial kitchen and you are sure to see stainless steel everywhere. When you take into consideration the advantages of using stainless steel, there is no wondering why it is the preferred material for restaurant equipment. Some of those advantages include:
High corrosion resistance that allows units to be used in rigorous environments.
Fire and heat resistance that allows units to resist scaling and retain strength at high temperatures.
Hygienic, non-porous, surface coupled with the easy cleaning ability that makes stainless the primary choice for applications which require hygiene control, such as hospitals, kitchens, and other food processing plants.
Aesthetic appearance that provides a modern and attractive appearance for most architectural metal applications.
Bright and easily maintained surface that makes it an easy choice for applications demanding an attractive surface at all times.
Strength-to-weight advantages that allows it to be used with a reduced material thickness over conventional grades, often times generating cost savings.
Resists impact even at extreme temperature variations.
Long-term value created by its long useful life cycle often yields the least expensive material option.
Unlike much of our competition, FWE equipment is all stainless steel from the fully welded stainless steel base frame, to the outside body and doors. Our solid stainless steel construction is built to withstand continuous, demanding use. In order to keep units looking and running at their best, routine cleaning needs to take place. When a routine of proper use and care is followed, equipment is able to avoid heavy dirt build up and is likely to have a longer life.
In general, only cleaners, detergents, degreasers, or sanitizers that are certified to be 'chloride-free' and 'phosphate-free' should be used on stainless steel surfaces. Cleansers containing chlorine in particular should be avoided as repeated use of chlorinated solvents may cause a chemical reaction with stainless steel, which will damage the surface and cause rusting. Water with high chloride content can also damage stainless steel. If you are unsure of your water quality, we recommend you have it tested.
Abrasives, acids, or strong cleaners may mar and scratch the surface and should not be used. Also be sure to always read the label of cleaning solutions to check for warning about use on stainless steel products. Use all cleaners at their recommended strength.
A stainless steel cleaner or polish is recommended for unit exteriors to maintain a like-new appearance. Stainless steel interior may be kept clean and in good condition by removing racks and rack supports and wiping the cold interior with light cooking oil. Interior parts such as tray and pan slides as well as humidity pans are removable for thorough cleaning. Units should not be flooded with water nor should electrical parts be allowed to become wet.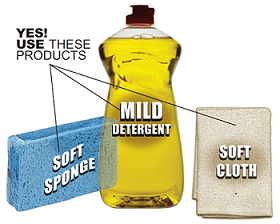 The right tools also have to be used to ensure stainless steel lasts. Abrasive pads like steel pads and wire brushed need to be avoided. Instead, non-abrasive tools like soft cloths and plastic scouring pads should be used. When cleaning it is important to remember stainless steel has a grain, just like wood. When cleaning the surface of stainless steel, it should be rubbed as softly as possible using long even strokes in the direction of the grain.
For routine cleaning use soap, mild detergent or ammonia solution in warm water, applied with a soft cloth or nylon sponge. Regular dish soap works as a great mild detergent for this application. After cleaning and sanitizing all exposed surfaces should be rinsed with clear water and wiped completely dry with a towel or cloth to avoid water spots.
For moderate soiling, apply the mildest abrasive cleaner, or paste made from fine chalk or soda bicarb (baking soda will do), using a soft cloth or a fine nylon scouring pad. A soft bristle brush may also be used. Avoid using a circular rubbing action. Rinse well and dry with a soft cloth.
For heavy soling, presoak the unit in warm/hot detergent or ammonia solution. If this does not sufficiently soften burnt food or carbon deposits, a caustic cleaner will have to be used. Follow by cleaning as for moderate soling. Repeat if necessary.
Units need to be unplugged and allowed to cool before cleaning the cabinet can occur. Electrical components should not be exposed to direct contact with water or cleaning solvents to avoid permanent damage to electrical components.
Click here for a full guide of cleaning care tips for stainless steel, vinyl, and aluminum.
If you are interested in speaking to a representative about proper maintenance and cleaning of your equipment, please contact service@fweco.net.
---
Did you know…
Below you'll find various useful pages to help educate you on FWE products and information to better assist in deciding on your next order!